The Home with God Retreat
You're Invited to:
The HOME WITH GOD Retreat

Nothing has riveted humanity's interest more, nor has anything been more frightening or awe-inspiring, than the finality of death. For many, death has been a closed-door subject. Perhaps for most. Certainly there is a denial of death in our culture. Ironically, this denial may well arise out of a deep, cellular understanding of what is true --- that death as a finality of life simply does not exist. Yet humanity as a whole does not seem to have arrived at a place where it fully comprehends death and what the experience really is.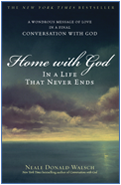 The fears and questions that so many people hold around death were explored and resolved in Neale Donald Walsch's Amazon.com and BarnesandNoble.com #1 bestselling book, Home with God: In a Life That Never Ends. And now -- in response to many requests -- Neale has created a special retreat based on the remarkable insights of this closing dialogue with God.

Over the course of 3 days, Neale will work with a small group to examine end-of-life questions that everyone longs to have answered. The insights from his conversation with God uplift us all, wiping away our fears and inviting us to celebrate, not mourn, every person's Continuation Day.

In 1 Corinthians, Chapter 15, verses 55-57 we read: "O death, where is thy sting? O grave, where is thy victory?" The Home with God Retreat asks precisely the same question. The answers it provides, however, may be considerably less traditional than those found in the many Scriptures of our species. Be careful. This September offering from Neale Donald Walsch could change your ideas about death (and life) forever.
DATES: Friday, September 25 through Sunday, September 27, 2020.
FLEX-PRICING DETAILS: We are happy to announce our Flexible Pricing Options for this and other similar workshops. All you have to do is select the price that you feel is most appropriate to you given the value you place on such a program and your own financial means.
IT IS IMPORTANT TO NOTE: All of the proceeds made from this event, after the considerable costs of presenting it, will go back into bringing the CWG messages into the world.
Please 'click' on one of the following options to select your price:
• I wish to pay $300 USD to attend the Home with God Retreat
• I wish to pay $500 USD to attend the Home with God Retreat
• I wish to pay $800 USD to attend the Home with God Retreat
This Flex-Price Plan is our response to the economic conditions that have affected many people around the world. We know that everyone will be fair in determining what payment is appropriate for them. Please keep in mind that your personal travel, food and lodging expenses must be paid by you. We can offer these flex-pricing options for our programs, but we cannot, of course, ask airlines, hotels, and restaurants to offer you their services for greatly reduced prices, or for free.

LOCATION: The event is held in Medford, Oregon, at the Rogue Regency Inn & Suites. Hotel accommodations are not included in the regular price of the conference registration. There are rooms available in the facility where the retreat is taking place (the Rogue Regency Inn & Suites) at the discounted rate of $89/night for single or double occupancy. For reservations, please call 541-770-1234 and request the "Conversations with God" group rate. To receive this group rate, reservations must be made well in advance. Persons reserving rooms very near the program start date will be quoted the hotel's regular room rate.
The Rogue Regency features a full service restaurant offering vegetarian and non-vegetarian fare, Xpressions Hair and Nail Salon, massage therapist, indoor heated pool, spa, terry bathrobes and feather pillows in all guest rooms, with optional two-room suites with hot tub and fireplace at a slightly higher price (see all the amenities at https://rogueregency.com/amenities-services/), plus free transportation to and from the Medford Airport (MFR), five minutes away. Call them to arrange pick up: 541-770-1234.
PROGRAM AGENDA: Times are Approximate. This is a rough schedule and subject to change.
PLEASE NOTE: We gently ask that persons attending this retreat plan to attend every session from beginning to end, leaving the room only during regular break and meal times. Persons who miss an entire session of the retreat will miss so much of its content that it will be extremely difficult to reenter the program beneficially. Therefore, if your health circumstance makes it not possible for you to be in the room for three-hour sessions, this retreat may be too rigorous for you.
Friday
9:00 am Onsite event check-in at the Hotel
10:00 am - 1:00 pm Morning session
1:00 pm - 2:30 pm Lunch break
2:30 pm - 5:30 pm Afternoon session
5:30 pm - 7:00 pm Dinner break
7:00 pm - 10:00 pm Evening session

Saturday
10:00 am - 1:00 pm Morning session
1:00 pm - 2:30 pm Lunch break
2:30 pm - 5:30 pm Afternoon session
5:30 pm - 7:00 pm Dinner break
7:00 pm - 10:00 pm Evening session

Sunday
10:00 am - 1:00 pm Morning session
1:00 pm - 2:30 pm Lunch break
2:30 pm - 5:00 pm Final session and conclusion

For more program information contact Will Richardson at:
1-352-442-2244 (in Oregon, USA Pacific Time)
or ndwsupport@gmail.com

CANCELLATION POLICY
Payment is required in full at time of registration. A cancellation fee of 35% of the amount you choose in the Flex-Plan will be charged for cancellations made more than 30 days prior to the event start date. NO REFUND CAN BE ISSUED if you cancel LESS THAN 30 DAYS PRIOR TO EVENT START DATE, as we will have held a place for you, and it will be in most cases too late for others to book your space. We know that you understand.