CWG Movie - Collector's Edition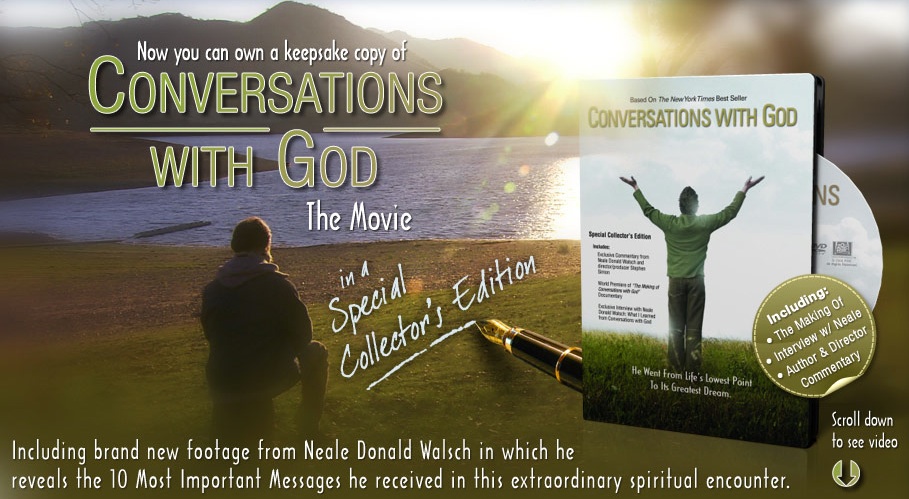 Here is the movie that every reader of Conversations with God is talking about. Those who've seen it find they want to watch it again and again. Those who've heard about it but have never seen it, have the chance today to bring this heart-rending, soul-touching film into their home, now with exclusive new material --including a very special interview with Neale Donald Walsch, and, in the Commentary Track, his own personal reaction to every single scene of this movie.
This Special Collector's Edition includes:

Commentary by Director Stephen Simon & Author Neale Donald Walsch
Exclusive Interview with Neale Donald Walsch
World Premiere of 'The Making Of' Documentary

Bring this wonderful CwG keepsake to your home


(Format - Region 1: US & Canada only)

Comments from the audience at the premiere screening in Portland, OR:
"I cried through the first half,
and I was very elated through the second half."
"It's like Spirituality 101…
it helps you to understand who you are in this universe."
"I cried throughout the movie…
there were times when the movie touched me very deeply."
"I thoroughly enjoyed it.
It was really wonderful to see how that process took place."
"I found myself surprised by the emotion of the story."
"By the end of the movie I felt like every heart was open."
"It's good to see a film that talks about connection and talks about that spirit that's in all of us, that god is us, that we're the ones we've been waiting for."