Of Yesterday and Tomorrow
Take an extraordinary glimpse of the Birthing of Humanity as described by futurist and visionary Barbara Marx Hubbard …
What does the future hold
and what are our grandest possibilities?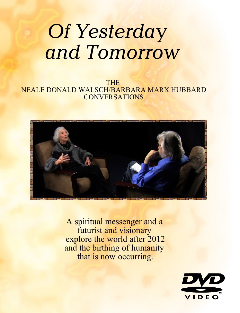 Neale Donald Walsch engages Barbara in a unique and provocative conversation, to bring you:
Insights into your role in creating humanity's future.
A first-hand account of what it feels like to "make contact" with Higher Intelligence.
A deep and vivid awareness of how to spot "patterns" in your own life based on the example of inter-weavings found in all of life.
5-DVD set
$39.95
View the Trailer

In January, 2010, two extraordinary people - spiritual messenger Neale Donald Walsch and futurist and visionary Barbara Marx Hubbard - sat down together for three days to explore Barbara's remarkable 80+ years on this planet.

What came out of that conversation is a biography unlike any other, The Mother of Invention, which tells the story of every human being now on the earth . . . through the telling of Barbara's life story. We are all moving through the same process, the book and its subject declare. It is the process of the birthing of our species.

In what may very well be a new literary style, this biography begins in the future, unraveling Barbara's story backward: from December 22, 2012, to the date of her birth. Throughout the book are special sections inviting us to explore how we may directly apply what Barbara has observed and learned during her remarkable 80-year journey . . . to our own daily lives.

On this journey, we witness Barbara as she became one of the first women ever to have her name placed in nomination for the vice presidency of the United States by a major political party, traveled to Russia as a cultural ambassador for peace, visited the Oval Office and asked the President a question that he could not answer, and developed a deep acquaintanceship with the American space program. Today, we continue to find her at the leading edge of contemporary thought and innovative action regarding our construction of the future. In a very real sense, the story of Barbara Marx Hubbard is the story of the future of all of us, rendering it one of the most relevant and compelling modern biographies of our time.

This 5-DVD set documents Neale and Barbara's conversation that January, as they looked at the past, at Futures Possible, and at Barbara's vision of the Birthing of Humanity into the cosmic community of highly evolved beings.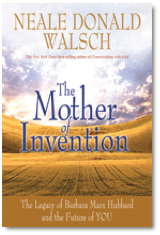 For more information regarding this remarkable biography, which we know will enrich your life immensely, CLICK HERE.